The ColeCar Motorsports team only had two races under their belts. The first was King of the Hammers 2015 and they had just completed Dirt Riot Round 1 in Congress, Arizona. Timmy, their new Ultra4 IFS race car was performing well. We expected they'd be heading to Fredericksburg, Texas for Dirt Riot March 14; but Mike Klensin called to say there was a change of plan. He was on his way to Las Vegas for the legendary Mint 400. Mat Carpentier and Mikey Florian were already there.
The Mint 400 was Mat's idea. He says "I've always wanted to race the Mint; I've seen pics and videos on Facebook. I talked to Mike and said 'do you think we could race the mint?'  He said 'I don't see a problem with it.' We signed up the day we talked about it. It went from there. It was a bucket list thing for all of us to do, like Baja 1000 and Vegas to Reno."
Mike says he "really wanted to race this race, but I thought next year we'd be way more prepared." They would encounter a number of hurdles before they hit the finish line.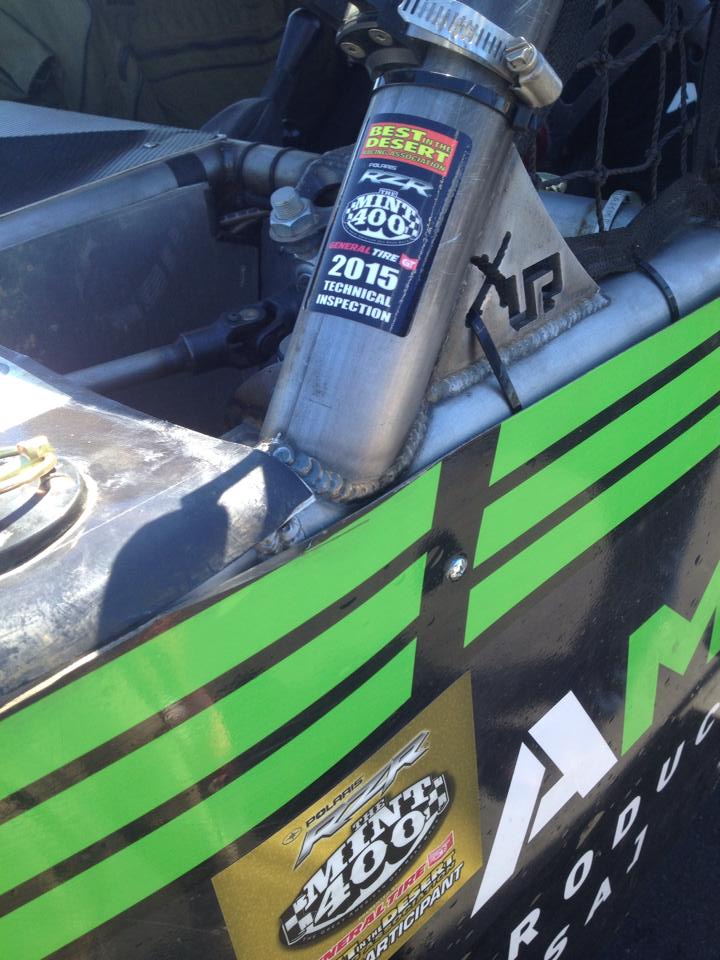 The essential Mint 400 tech sticker
Pre-Race Friday
Friday was crazy with details – tech and contingency, driver registration, the customary roll down Fremont Street and the drivers meeting at 7.
Mike was a bit nervous going through tech. "If they don't like what they see, they won't let you race. We went through without issues, they were happy. That's a relief as a builder, getting our tech sticker. "
Tech and contingency took place at the same time as driver registration – creating a last minute panic for Mat. "You had to have certain paperwork filled out before you went through contingency. Mike and Mikey were registering for driver's passes; they had the paperwork that needed to be with me for contingency. That was a nightmare; they got there just in time for us to go through."
Mike says "Contingency was really fun. We took the car down Fremont Street and people were coming up, wanting to see the car, asking about Amanda, how long we've been racing, etc. People were excited about the car; they really liked the look of it." Mikey noticed "people really liked Timmy because it was different; they haven't seen a 4wd buggy like that before. It really turned heads."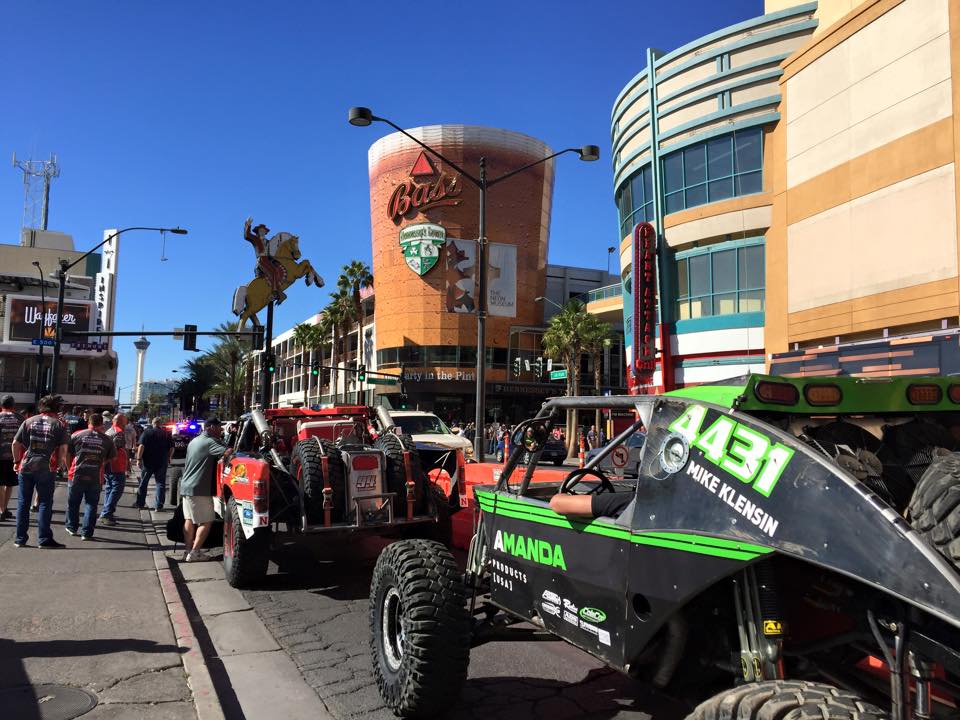 Rolling down Fremont Street; photo by Jerome Curtis
Mat had mixed feelings. "It was a nightmare and fun at the same time. Just because there's so many cars going through and you had to push your vehicle. Without power steering on Timmy, it was very difficult to push through a crowd. Almost had to start the vehicle and turn the wheel a certain way to not run anyone over. Seeing all the vendors and thousands of people; it took us about 4 ½ hours to get through."
Last Minute Fix
The team had been told they'd be in the afternoon race; that was good news and bad. Mike explains "That's the premier class race, 3 laps instead of 2; unfortunately, we broke the lights off Timmy's big light bar in Congress. So we needed to get that light fixed.
Will and Nate from Artec Industries drove up to Rigid Industry LED Lighting in Phoenix and waited there while they fixed it so we'd have it the next day for the race."
That night the team slept on cots in the trailer. Mat says "It was in the 50s at night and 83 in the day; nice sleeping at night, but the minute the sun hit it was brutal." In a perfect world, he would have been co-driver. Unfortunately, "The doctor told me I couldn't race for a little bit, so I didn't want to push it."
Mikey would be co-driver; the Mint 400 would be his first time in Timmy.
Race Day Strategy
Mike knew "There was a time limit to get done with the race. It wasn't whoever gets done first, it was whoever finishes a very long race within a certain amount of time." His experience with KOH helped him devise a strategy.
"I know the attrition rate from King of the Hammers; I knew we're talking a very long race, close to 400 miles. Our car had 100 miles going into it; four times the car's life already. Our strategy was to just stay within 5 to 10 minutes of the leader the first two laps; and then about halfway through the third lap, start pushing hard to get in front, close enough to strike. That way we're turning a 400 mile race into a 60 or 80 mile race."
Physical endurance is an issue. He says "It's easier to hold your concentration for 60 miles than 400."
First Lap: Challenging Terrain and Near Tragedy
The course took Mike by surprise. "I thought that the terrain would NOT be as rough as it was. I knew there would be sections, but there was a whole lot of rough." Mikey says "I've never experienced that rough of desert before. There's a lot of deep sand, silt, 3 to 4′ sections of whoops … big bumps that went on for like 5 miles. Consistent whoops and big sandy washes with big rocks thrown everywhere."
It wasn't easy to accept getting passed. Mike says "Mikey and I were driving on the first lap and a guy would pass us and he'd be sitting on the side of the road and we'd do a fist bump and say 'stick to the plan!'  Then we'd see them on the side of the road again – that happened several times throughout the race."
They were about 32 miles into the race when the race was stopped by Best In the Desert officials. Mikey says "We knew somebody was really, really hurt. A lot of times they'll just flag you down and show you a way around."
Photographer Ted at Shots by Tbars4 explains "Hearing this meant serious injuries. The Off Road race community is a large family and everyone pretty much knows everyone. We have all shared sleepless nights, tools, parts, stories down the road and meals. This accident took place right in front of the #4400 class Mike Klensin was part of."
They sat and waited and wondered. This is what they didn't know:
"Jordan Poole was riding with Ryan Hancock in the Alexander Racing Class One Car, around race mile 31 Ryan & Jordan rolled; while attempting to get out, the vehicle was struck by another race vehicle. Jordan & Ryan both were transported via flight for life to UMC Trauma shortly after. They determined Jordan suffered a Spinal Cord Injury and had scheduled surgery right away to repair the damage."
(From Jordan Poole's donation page)
The race restarted at 4:45 p.m.; time was short. Mike says "That's what made it down to the hour for all of us to get to the finish line."
Second Lap; Wheel Balance Issues
At the end of the first lap, Mike says "Air pressure was too low in our tire balls and they clumped up at one end of the tire; it's like having really bad wobble on the tire, it shakes the tire real bad." Mikey thought they had a flat. "I wasn't exactly sure what it was at the time. We kept pushing to get to the first pit, to not get out of the car but radio to see if we had a flat and needed to stop."
Mike explains "There's nothing really wrong with it, it's just out of round and you just can't take the car over 60 mph. In the lake bed sections the car's only doing 60 where most guys are doing 100. That kept putting us back into the mix of guys who had mechanical issues – even though we didn't have any. We didn't push too hard. We were comfortable with where we were time-wise.
The other two drivers, second and third place, were pushing real hard the whole race. They would get way out in front of everybody. Driving hard is hard on equipment so they were blowing tires and changing belts and having to stop and fix the car.
We kinda knew that we were in pretty good shape, but those guys don't give up. At the end of the second lap, it just happened to be we were in the lead. We had heard on the radio that the car that was in second place was not going to go through the pit, was just going to keep going. We were ok with that and took a really long pit stop. Had a couple of guys underneath the car checking bolts, fluid to make sure everything was perfect on the car."
At this point Mat was invited to co-drive. Mikey says "Coming into the 3rd lap I asked him if he wanted to come in." Mat knew racing all three laps would be tough on Mikey. "I felt bad for him, but I didn't want him to get out of the car and take more time. It would have taken at least 5 minutes. There was three people behind us, so it was a time cruncher. We needed to get it done."

Photo by SNM-Media.com
Third Lap – Getting it Done
Like Mike strategized; "That third lap was the start of our race."
Andrew McLaughlin and Tim Diekmann were in a fierce battle for first. Mike describes the scene; "Leaving the pits, the guy that was in second – now in first – had about 3 minutes on us. So it didn't take long, about 20 miles to get past him again. And then we really turned it up because we heard the third place guy was right there too. Worst case scenario – if we couldn't catch the leader, I was sure we could catch the second place guy. We stuck to that plan.
We were going 60 – the second place guy said he was doing 109. By then second and third were struggling with mechanical problems from pushing hard. We drove just hard enough to stay close to the front. That saved the car so that we could really push hard the second half. We had zero flat tires, we had zero mechanical problems; the only issue at all was we lost a CV boot/dust cover for one of the axles. It worked out really well."
Towards the end they entered a restricted stretch where they'd have to drop to 25 mph. "We made it through all the checkpoints and right before entering the restricted race course they stopped myself and another trophy truck, they said 'take this route to bypass the 25 mph section.' They told us 'you've got your finish right here.' At that last checkpoint they ended our race."
Andrew McLaughlin of LetzRoll Offroad Racing took second and Tim Diekmann of Molten Motorsports took third; Mike says "He probably had from six to eight lead changes throughout the race. They were pushing harder than we were. We weren't running at lap speed, we were just pushing hard enough to stay with. Like Nate from Artec said, 'all three battled hard.'"
The Physical Toll
Mike says "We lined up at about 12:30 in the afternoon for 2:00 and I didn't get out of the driver's seat until 1:30 in the morning, when we got off the stage."
They had CamelBak bladders for hydration, external catheters for relief and "In the pits we would just grab a granola bar." OK, many granola bars; it was a grueling race. "You're using your entire body when you're racing. You're using your abs to keep you sitting where you want to be sitting and legs to hit the gas and the brake and both arms to steer and shift. So you're using your entire body the whole time."
Mikey started feeling it in the second lap. "It was a 117 mile loop and about 20 miles into the second lap I could feel it was beating the heck out of me. By midpoint in the race I was really tired. By the end of second and starting third we started picking up the pace, pushing harder – that brought me back to life."
Mike says "In some sections of the race we were actually breathing hard because it was hard to get the car to go where you want it to go as fast as you want it to go. There are a bunch of twisty turns and ruts and broken ties. We had to dodge tires, half wheels, drive shafts, rocks – a bunch of stuff that you're constantly moving around at speed. Your reaction time has to be real quick and hard to stay concentrated that whole time. Again, it's why we did the strategy the way we did and started racing the third lap."
Mikey learned "It definitely takes a toll on your body. It's not just a Sunday drive. It's a physical sport though the car's doing all the work. By the time we got done with the race I had no clue what time it was."
Hearing They Won
For Mikey, "When we heard we won it was like a burst of energy. I don't think I actually calmed down to go to bed until 5:30 a.m. – after eating dinner and telling stories." Mike "celebrated for 20 minutes after the race and then went to bed. It was a really long day."
Dave Morganthall covered the race for themint400.com; he happened to catch Mike after the race. He wrote:
"Some of the last cars to cross the line belonged to Class 4400, the Ultra4 Racing series cars that braved the desert race course in their solid axle, shorter wheel based, machines. After the race Michael Klensin (#4431) said 'after the first lap we couldn't get the car over about 60' adding 'the whoops from the Trophy Trucks were just beating us up.' … I asked Michael if we'd see him next year, as he laughed through his words he said 'ask me again in a month.'"
(From Racers Battle to the End at the Polaris RZR Mint 400 Presented by General Tire – Official Results)
Thanks to the People and Companies That Made It Happen
The ColeCar Motorsports team wants to thank "all our pit support and crew; being such a long race, those guys were out there for hours. Without them and the people in the pit keeping everybody informed, we couldn't have done it."
Thanks to:
Will Periman and Nate from Artec Industries for getting the light bar fixed. "There was no way we could have raced without a light bar, so we owe a huge debt to Rigid Industries LED Lighting and Artec Industries."
Mike Kellogg of Greer Brothers Racing for his guidance. Mike says "He was out there to help us as well as another trophy truck team. He walked us through how everything works and helped us set up our pit and held our hand through the race."
Jerome Curtis for helping the team get to and from the race and managing Pit B.
And mostly "Thanks to Mat. It was 100% his idea to race. So of course we went and we're really grateful we did." Mat's sorry he wasn't able to race this one, but he's looking forward to Moab.
Thanks to the Sponsors
Amanda Products – title sponsor – is home of SpeedHook™. The ingenious recovery device came in handy at Congress, but Mat says "We didn't need to use SpeedHook™ during this race. It was sand desert, no major rocks and no flips unless someone accidentally clipped you. It was there if needed; there are two on Timmy. We also have it on Taylor's truck and my truck."
Other fine sponsors include:
Artec Industries
ADS Off-Road Racing Shocks
Calypso Automotive
Wild West Off Road
Raceline Wheels
Crossed Up Customs
What's next?
Mike's looking forward to the next race. "So we're excited now, have to change setup of the car for rocks and heightened technical in the next race, Dirt Riot during Easter Jeep Safari in Moab."
Follow the Team
Like Ultra4 Driver Mike Klensin on Facebook
Like ColeCar Motorsports on Facebook