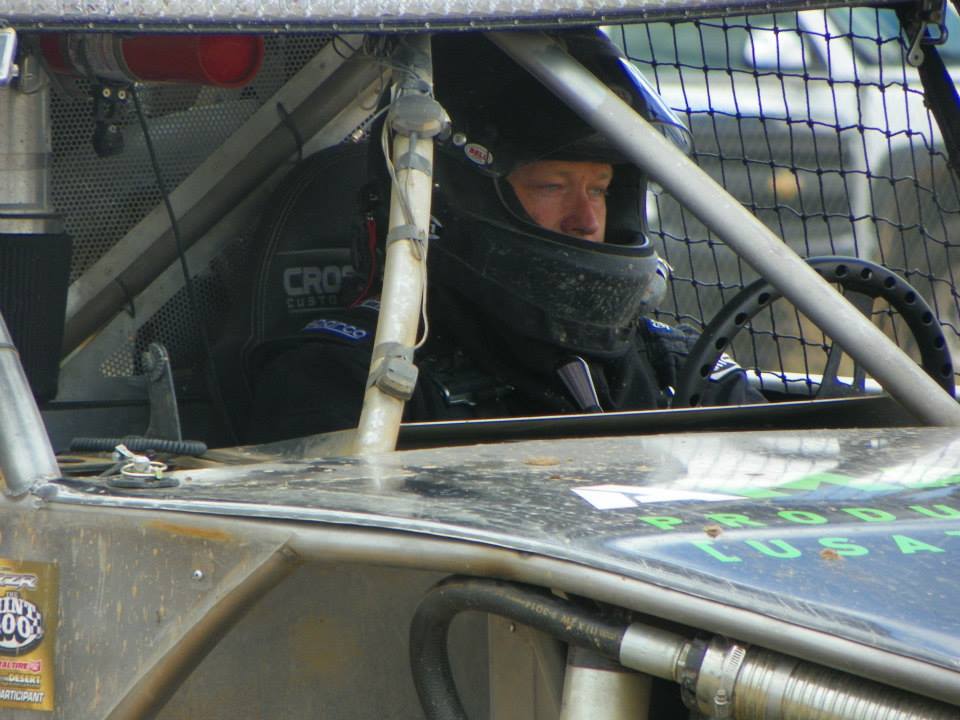 Mike Klensin, Mat Carpentier and the ColeCar Motorsports team were happy to be racing the home track but – like Mike says – "Timmy does better at high speed on an open desert." The only thing they were counting on was a good time.
As it happens, WINNING is a good time; but it wasn't easy.
Fuel problems

"We weren't as fast as we could have been. We had some bad fuel and didn't realize it until we started racing. Some guys run aviation fuel or 110 octane or alcohol. We wanted to run pump gas, so we just use 91; but the car was cutting out on us the whole race."
Cactus concerns
"The track's real twisty and turney and they added two straightaways where we could build up speed; that was kind of neat. Except that this track has a lot of cholla cactus; if you were to miss a turn and go straight, you'd run right into one.
You don't want to hit one of those. They call it 'jumping cactus' because it's so easy to get it on you. It comes off in little balls of needles." Removal is brutal; we found video of a hiker's cholla encounter. We might have shared it, but the expletives were over the top.

Photo by Dave Pape, Associate Professor, Department of Media Study at University of Buffalo
Tire problems

"It was a timed race, 2 hours, as many laps as you could do. I think we did 12.
On the second to the last lap we noticed the left rear tire was getting low. We just went ahead and drove. By the last lap I knew we had a flat, but I didn't want to stop."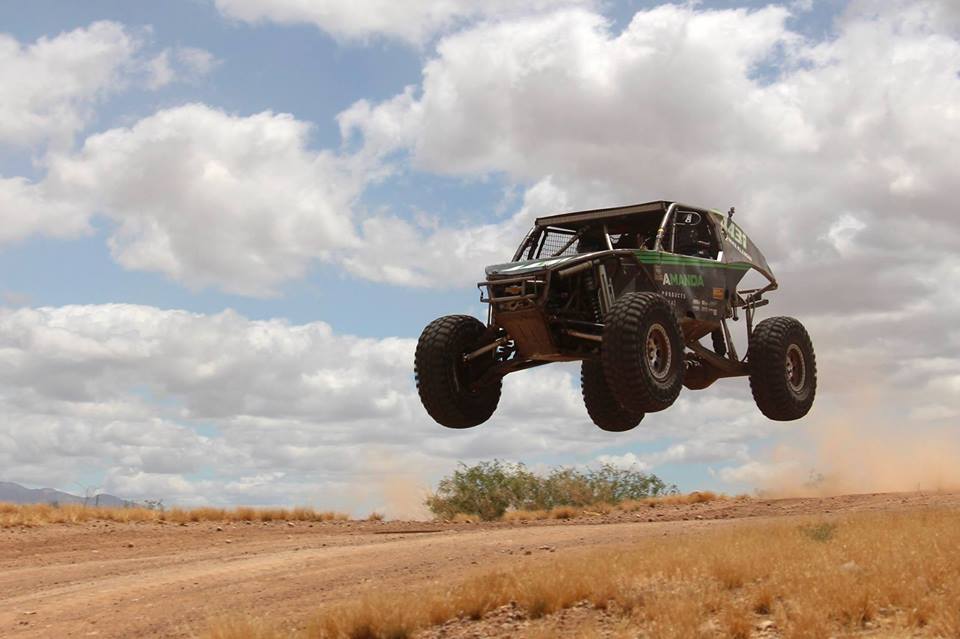 Timing issues
"We qualified first, started first, so if somebody started a minute and a half behind us in 30 second intervals, they could technically come in faster and beat us. We wanted to give ourselves at least a couple minute margin.
We were going to take the easy line through the rocks, but somebody rolled over. We had two choices – take the quarter pipe or wait until they're done recovering. 
We didn't know how close second was. We had radio communication between the car and Mikey and his dad Jim Florian in the pit. They were standing next to the time and scoring table to give us updates; but those numbers aren't official.
We wanted to make sure that we had a little bit of margin for error on our timing. I didn't want to lose the lead so I decided to take the quarter pipe.
We drove up that quarter pipe with a flat tire.
It's 90 degrees up and down. When you go up you have to go hit the brakes or the car would go straight up and come back drown in drive; or the car will stop on the rear wheels and roll over; that would be no good. It's dug out and down – about a 14′ drop from bottom to top."
Watch the upper left corner of this video by Chris Cook.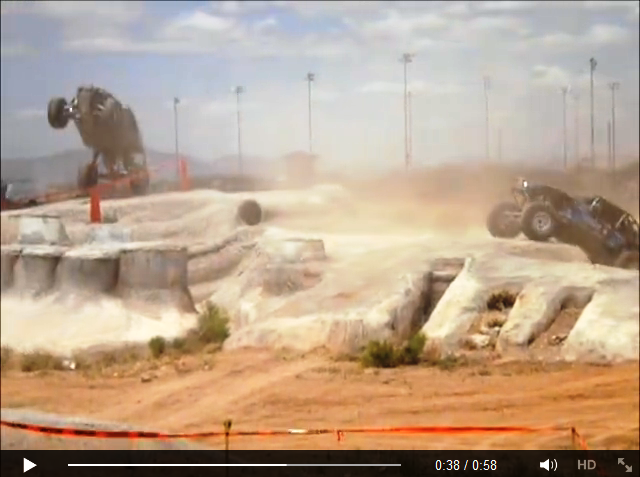 We finished the whole last lap on a completely flat tire."
Why they won
"I think one of the big reasons is we're comfortable in the rocks. Before we were racing we were rock crawling, so I'm not scared to go up that quarter pipe. Coming from the rock crawling background combined with how well our car works in the rest of the terrain made it way faster for us."
"We had a good weekend all around. Mat ran his UTV and Mikey ran his Cherokee; Mikey took first and Mat took second in his class.
We had a ton of people there, all of my family, Mikey's family and Mat's family – and all our friends. I actually drove home after the race, but the crew stayed out there."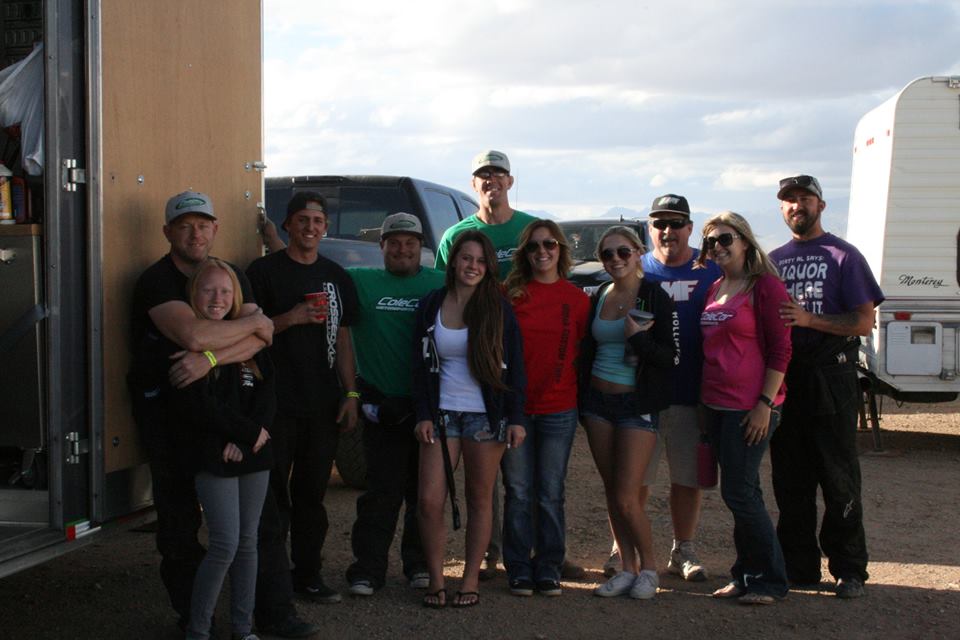 Left to right – Mike Klensin, Mike Florian, Jerome Curtis, Acacia Pinnell, Sam Verbridge, Taylor Brown, Shelbie Kellogg, Jim Florian, Melissa Verbridge and Mat Carpentier.
"Our next race is Glen Helen, we're looking forward to that. There's more prepping to do on the car, make sure everything is working good – and do some new air intake stuff on the motor side."
Amanda Products: Title Sponsor of ColeCar Motorsports
Amanda Products is home of SpeedHook™ – as seen on the team's Ultra4 IFS race car and chase trucks. The ingenious off-road recovery device is priced from $79; it's compatible with Jeeps, F150s, buggies and any vehicle with a 2" receiver hitch.
Like Amanda Products on Facebook
Follow the Team
Like Ultra4 Driver Mike Klensin on Facebook
Like ColeCar Motorsports on Facebook