Amanda Products to Launch TrailHammer™ Line of Jeep® Wrangler Bumpers and Doors at SEMA 2015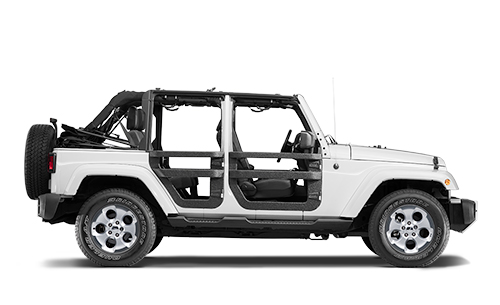 DETROIT – Amanda Products will launch their new TrailHammer™ line of bumpers and doors for the off-road aftermarket at SEMA Tuesday, November 3 through Friday, November 6, 2015.
SEMA – the Specialty Equipment Market Association – is the premier automotive specialty products trade event in the world. Parts and accessory manufacturers view it as the ultimate destination for introducing new products and connecting with buyers. (Amanda Products introduced the original prototypes at SEMA 2014.)
TrailHammer™ bumpers and doors are designed for 2007-2015 Jeep® Wrangler JK models.
Front bumpers feature hinged Amanda Products SpeedHook™ tow hooks for fast, easy off-road recovery, enclosed winch mount, KC HiLiTES 4″ round LZR LED single lights for enhanced visibility and removable end caps to help enthusiasts negotiate obstacles.
Rear bumpers feature hinged Amanda Products SpeedHook™ tow hooks for fast, easy off-road recovery, receiver-ready design and removable end caps for additional tire clearance.
New doors feature bold design, enhanced views of trails and terrain, and beefy construction for a safe/secure feel.
Prices and availability will be announced at the show. Learn more at amandaproducts.com
Amanda Products' booth – designed by M3D experiences – will showcase TrailHammer™ bumpers and doors as well as SpeedHook™ tow hooks.
The SEMA show takes place at:
The Las Vegas Convention Center
3150 Paradise Road
Las Vegas, NV 89109
Attendees can find Amanda Products at Booth #37149, in the Trucks, SUVs & Off-Road area of South Hall Upper.  (Lower middle of this floor plan.)
http://www.expocad.com/host/fx/SEMA/sema15/uppersouth.html
Please note that SEMA is a trade-only event, not open to the public.
Follow Amanda Products' launch on social media
ABOUT AMANDA PRODUCTS

Amanda Products' SpeedHook™ and TrailHammer™ lines are produced by parent company Amanda Manufacturing in Logan, Ohio. Both companies are divisions of the Deshler Group. Based in the Detroit area, Deshler offers global solutions, from IT, supply chain management, manufacture and assembly to storage, packaging, distribution and transport.
CONTACT
Amanda Products
info@amandaproducts.com
SaveSave