Amanda SpeedHook™ is the fast, easy way to stay in the action; it's compatible with Jeeps, F150s, buggies, and any vehicle with a 2" receiver hitch.
August 25th, 2015
The W.E. Rock site promised "a very fast course with a lot of technical areas as well. Looking at the Series and National points standings, there are heated battles in most classes in each series. A few drivers that don't typically race in the Mountain or Southwest series are making the trip to main[...]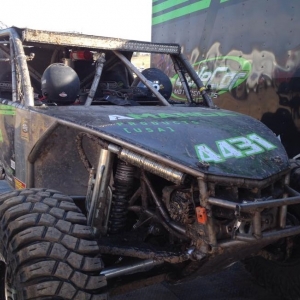 At Jeep Beach, reactions to our SpeedHook™ ranged from "That's freaking ingenious!" to "Slide it through, you're outta there; back on the trail!"
MADE IN AMERICA
Amanda Products are engineered, tested and manufactured by Amanda Manufacturing in Logan, Ohio. We are inspired by – and committed to – the off-road community, from racing to recreation.
Amanda Products is a new division of Amanda Manufacturing, an original equipment supplier that produces more than 300 quality metal formed parts for automotive manufacturers, including hood-prop rods, hood/door/seat strikers, muffler hangers, fender braces and manual shift assemblies.
Stay tuned; exciting new products are currently in development.